Now this vibe is the epitome of high quality. The LELO Insignia Oden-2 is super sleek, super functional, and super amazing. The design is fab, featuring contours aplenty, sure to conform to your body in the best possible ways.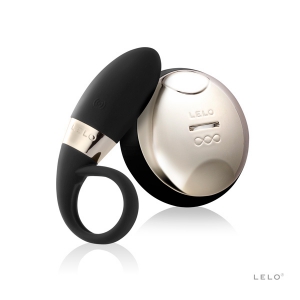 The main attraction is a silicone vibrator that's attached to an open ring. Place this ring (it's not tight) around the penis so the vibe will press right against her clit. Going cowgirl is the best way to make the most of this lovely little toy's vibrations. Or, attach the vibrator to the included closed ring to promote a longer, harder, more satisfying experience.
What sets the LELO Insignia Oden-2 apart is that it comes with a remote controller that tucks neatly in your palm. The remote offers up vibrations as well, but it's best feature is called "sensemotion." Move the remote around and tilt it to experience different vibration combinations. It's completely wireless with clearly marked + and – controls, so there's no confusion while you're in the sack. It also has a good range on the wireless remote, so you could feasibly sit a distance from your partner and control the vibrator for an added bit of fun.
It's waterproof and completely rechargeable, giving you up to 2 hours of continuous use. Feel free to bring it in the shower or bath, if you'd like. It comes with a carry bag, 2 batteries, a triple infinity pin, and a charger.
What Did I Think of the LELO Insignia Oden-2?
Another winner from LELO, the Insignia Oden-2 lives up to its "most advanced couples' ring" motto. Made from silky silicone with 8 vibration modes, this vibrator will become a featured player in your sex toy box. Though intended for couples, it works great solo, too. Yum!
The following two tabs change content below.
Kim Airs is the founder of the upscale sexuality boutique, Grand Opening! She's since moved the store online and now offers a ton more
sex toys and goodies
for your own personal shopping experience! You can find her on
Google+
and
Twitter
.