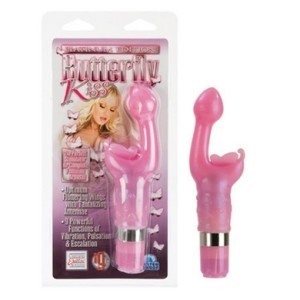 This spectacular reboot of the best selling Butterfly Kiss vibrator features 9 rockin' speeds and functions. Made of completely scentless TPR, the CalExotics Platinum Edition Butterfly Kiss has a shape and size that's perfect for a first timer or for those gals who can't get enough G Spot stimulation with a strong little twiggling butterfly flapping her wings for non-stop clitoral stimulation as well.
More Than Just a Kiss
The package says "9 Intense Functions" and I am happy to report that they ARE. The first three are slow, medium, and fast but the other 6 are new and different variations of pulsations that pause at unexpected times, resulting in a sheet-grabbing "is it gonna pulse again? AAAHH!" yelp of pleasure. The unexpected throb only adds to the orgasmic experience! Nice and compact, the CalExotics Platinum Edition Butterfly Kiss just keeps rolling on – and in.
What Did I Think of the CalExotics Platinum Edition Butterfly Kiss?
Loved it, loved it, loved it. This vibrator offers up enough variation to surprised sex toy experts, and enough tried and true function to offer a pleasurable experience for first-timers. This is an excellent vibrator for women who enjoy G-spot stimulation and intense clitoral stimulation. An excellent combination all-around that's sure to leave you clutching the sheets, arching your back, and moaning in anticipation for the next pulse, vibration, and flick. Believe me. I know these things.
Basically, this sex toy is a definite upgrade–and the original was pretty great. That's saying something!
If You Found This Review Helpful…
Hit me up on Twitter or leave a comment here. Share your experience with this sex toy and feel free to ask any questions you may have. That's what I'm here for! And if there' a product out there you want me to review, let me know. I'll see what I can do.
The following two tabs change content below.
Kim Airs is the founder of the upscale sexuality boutique, Grand Opening! She's since moved the store online and now offers a ton more
sex toys and goodies
for your own personal shopping experience! You can find her on
Google+
and
Twitter
.