OMG! I can't believe it! One thing leads to another in this wacky town of Los Angeles. As you know, I was profiled in Tuesday's LA Times about my Santa Stops! which is what I call the runs I do by myself to deliver toys to kids in the 'hood. I've been doing it for about 5 years now and really love it. I go to all different areas of LA, the ones that are considered dangerous and even though I am by myself, I always feel safe because I AM SANTA!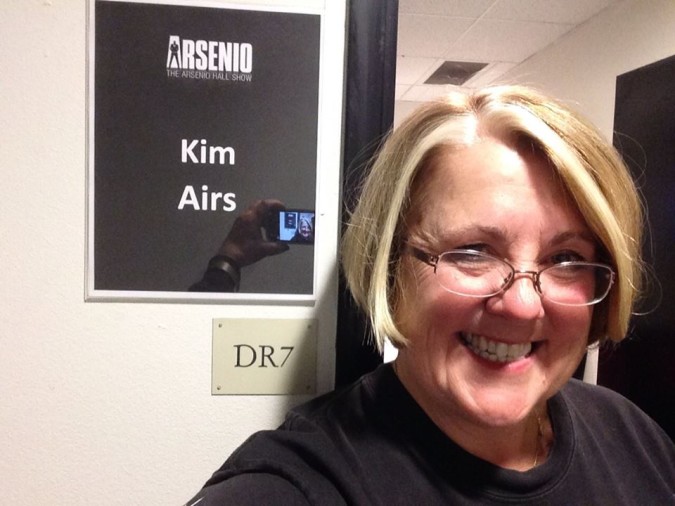 So today the phone rings and I hear "Hi! This is Jennifer and I'm a producer for the Arsenio Hall Show. I'm wondering if you'd be free to be on the show tomorrow?"
It took me a New York minute to say yes, canceling my 4pm SEO chit chat I was gonna have with Brenda of Digital Inkwell. I didn't think she'd mind and thought that being on the Arsenio Hall Show would certainly keep her SEOing into the night.
Now here's the best part (as if it couldn't get better). They want me to talk about sex toys on the show, too! DOH! I kinda feel funny combining the giving away toys as Santa to kids and YES, they are ONLY kids toys. The only thing I want in common with my "real life" and the toys for kids and toys for adults is that I am giving toys to strangers to brighten their day and the smiles are the same whether they are adults or kids. I have the same level of passion for doing this with kids as well as adults and I love all of it.
Not only that, but the other guests are The Real Housewives of Beverly Hills! I'm hoping that they'll need a sex toy home party that can get broadcast and, well, you get where I'm going with this and that will be another blog.
But back to Arsenio Hall… What they've asked me to do is show up early for a rehearsal and I'm gonna RIDE MY MOTORCYCLE ON THE STAGE! Yep!!! I'm gonna take the green and white 1999 Honda Shadow ACE 750 because it looks better as a Santa bike. But my pal Vince is going to bring my Big Vibe (the 2004 Honda Shadow Aero 750) just in case they want to profile THAT bike… you never know! Maybe I have to ride both of them! I also mentioned that if Arsenio wants to go out as the elf, I'd be more than happy to throw him on the back of the bike since around the studio, there's lots of houses with kids that can use toys and it might be a really cool addition to the show.
It gets even better. When I did my "interview" on the phone today, Jennifer, the producer from the show, casually mentioned "Oh, maybe you can give out sex toys to the audience!" and I got to thinking… "Hey! May as well! I AM SANTA!" So I called my pals at California Exotic Novelties and my pals at Sportsheets and they both have generously donated 250 toys EACH to give away to the audience AND the staff of the show! Can you believe it?! That's gonna totally rock the show!! Talk about a great Christmas! I also will hopefully get to talk about a new sex toy I've been working on for two years that is finally going into production… and that's another blog, too. I'm brining the wonderful Magic Wand to show on the show because you just never know.
The thing with reality TV or talk shows is that you never know if you're going to get say 2 words or 2000 words! I'll be happy with whatever I get, whoever I talk to.
So tune in! Check out the show's Station Finder to find out when the show airs and on what channel in your area. It's on KTLA at 11:00 pm here in L.A. DVR it, YouTube it after the show… check it out on FaceBook and Twitter, too!
I love my job
The following two tabs change content below.
Kim Airs is the founder of the upscale sexuality boutique, Grand Opening! She's since moved the store online and now offers a ton more
sex toys and goodies
for your own personal shopping experience! You can find her on
Google+
and
Twitter
.