What a weekend! If you follow me on Twitter @KimAirs, you saw what I was up to this weekend at ANME or The Founders Show. That's Adult Novelty Manufacturers Expo for the uninitiated. But if you missed my tweets, I've collected the photos and details here for you in one convenient spot. I know you guys like convenience. Plus, now you have a way to learn about all the fantastic products I encountered (and tested!) as I strolled from booth to booth–or should I say from tent to booth?
ANME Day 1: The Exhibitor Tent
Make your own dick! Or pussy! There were Clone-A-Willy Kits aplenty on display.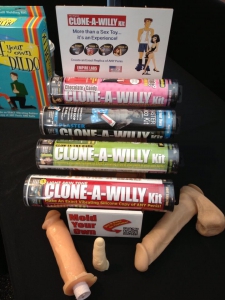 There were a lot of new lubricant companies there, too. Off the top of my head, SLYD and Tiger Lube stood out from the newer picks and Uberlube always impresses with their clear glass bottles.
One of my favorites, the Magic Wand was there. No longer sporting the Hitachi name, this Vibratex staple is still the best. And thanks to a creative relaunch, this vibrator is set to be even better with updated tech and sleek new packaging.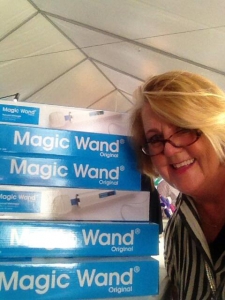 One of the highlights of the day was the Crave booth. I got to build my very own vibrator! How cool is that? The Crave is super easy to use. It features two prongs, each with their own vibrators in the tips. It's powerful and small. However, getting to build it was the standout attraction. I got to pick out a silicone sleeve, motor, control panel, and USB charger. Then I put all the parts together–following step-by-step instructions–and applied silicone glue. Once the glue dried, I was able to test the electrical components. After 10 minutes, I walked away with my very-own-vibe, built by yours truly!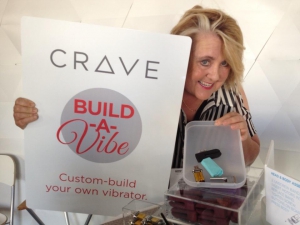 Zolo Masturbators stood out, too. With clever advertising, Pocket Pool has never been so fun.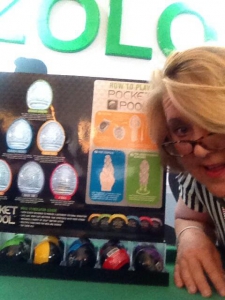 Plus, I designed this display for Nasstoys. Nice eh?? You can clearly see some of the products I've reviewed here, too, like the Strapless Strap-on.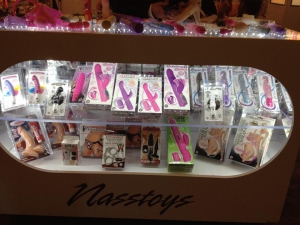 Masque Sexual Flavors were there, too, and you all know how I feel about those yummy little strips.
Read more about day 1 at ANME over on my XBIZ blog…
ANME Day 2
The second day of the Expo brought even more booths with high quality products for me to lay my little hands on. Yippee! Look at how stylish these new offerings from JOPEN are? I can't wait to give 'em a try!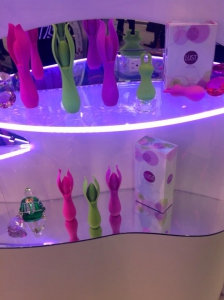 And could this get any more fun? ScreamingO came out with a vibrating mustache called the MustachiO! Words can't even express how much I LOVE IT!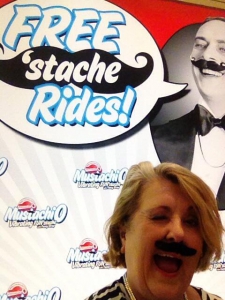 OhMiBod has the right idea. The Lovelife Flex are kegel weights coming soon to a sex toy store near you. They look so delicate and feminine, but are sure to pack a punch.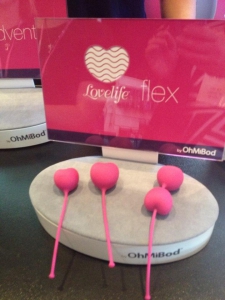 ANME Day 3
By the time the last day of ANME rolled around, I was exhausted, but there were still more things to see! I persevered just for you all. I know, I know: I'm so selfless in my pursuit of the best sex toys.
Here I am product testing in the XR LLC booth. I'm using that fucking machine the best way I know how!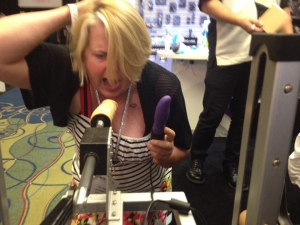 I also stumbled upon the NS Novelties booth. They had some silicone restraints on display and they are super soft, comfortable, and fun. What a brilliant idea!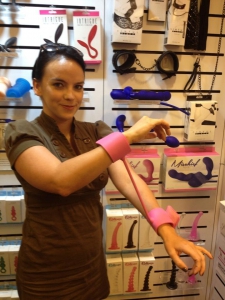 I might post some more in depth info later about specific booths and exhibits. But for now, know this: my trip to ANME 2013 was a huge success. Great products, tons of schmoozing, and lots of fun. I can't wait till next year!
The following two tabs change content below.
Kim Airs is the founder of the upscale sexuality boutique, Grand Opening! She's since moved the store online and now offers a ton more
sex toys and goodies
for your own personal shopping experience! You can find her on
Google+
and
Twitter
.