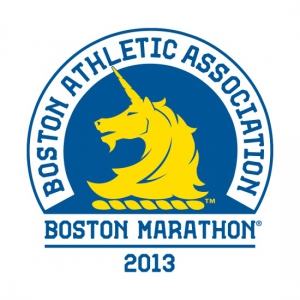 Oh Boston… before the Boston Marathon bombing yesterday, April 15, when I mentioned I lived there for 26 years, people would respond with "Pahk yah cah in Hahvahd Yad" and I'd answer, "Yeah, that's about it!" But now, people are giving me their heartfelt sympathies for the injury and chaos caused during one of the happiest days on the Bostonian calendar.
Of course I had attended many a Boston Marathons, several times cheering everyone who crossed my perch in Cleveland Circle, on the downside of the relentless Heartbreak Hill. More recently, I cheered from my beloved Coolidge Corner in Brookline where my bricks and mortar Grand Opening! lived for twelve years starting in 1993. During those years, we closed the store for the a while to watch these athletes run just several yards away from the door while they continued their run for a mere 1.2 miles to the finish line.
The finish line is where the Boston Marathon would truly leave its mark. The pavement in front of the Boston Public Library is permanently painted with a banner and the large, familiar blue and yellow words FINISH and the logo of the Boston Athletic Association: the mystical unicorn. You could always tell who the tourists were in Back Bay because all throughout the year, they would take pictures of their friends splayed across the line in feigned exhaustion.
Now the image of FINISH has another meaning although this time, not as happy as before.
My friend Tony sent me a text here in LA that I had to read several times in order to fully comprehend it. "WTF?" I texted back, thinking that it must be some sort of mistake or misunderstanding of details that may have come through his radio. He called me shortly thereafter to tell me what he knew and it still didn't ring true to me. But he doesn't lie.
Sadness came over me without hesitation. Boston. My Boston. The place where I lived from 1980 through 2006. Twenty six years. Twenty six years of Celtics, Swan Boats, the T, Malden, Nahant, Brighton, Cambridge, the North End, Charlestown, Brookline, and finally Jamaica Plain, aka JP. Boston. The only place I know where even a tourist could stump a native while asking for directions. Boston.
It could not have happened. But it did.
As details emerge and our sense of stability erodes yet again, it reminds me of just how precious life is. One does not expect to go see the joyous culmination of running 26.2 on Boylston Street in Back Bay result in loss of limb and life. One does not expect to wake up and go to work only to not make it there. One does not expect to go to the hospital for something routine, never to return.
One does not expect….
So tell everyone how important they are to you, inhale your breath deeply, relax your shoulders, and think of those who are no longer here.
Hang in there, Boston. I'm thinking of you…
The following two tabs change content below.
Kim Airs is the founder of the upscale sexuality boutique, Grand Opening! She's since moved the store online and now offers a ton more
sex toys and goodies
for your own personal shopping experience! You can find her on
Google+
and
Twitter
.