Want to get into anal play but don't know where to start? Or, are you looking for a new sex toy to hit all of your hot spots at once? If this sounds like you, the Tantus Flex is the perfect choice. It's sleek, it's purple, and it's bound to make a stimulatingly good addition to your toy box.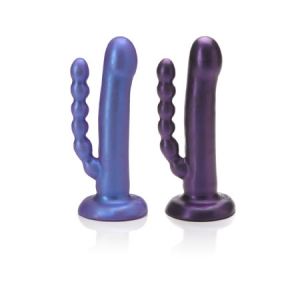 The Tantus Flex is made from silicone, so it gets positive points right away. This thing is easy to clean, making it super hygienic, and likely to be a good investment. Taken care of, silicone sex toys can last a good while, even with regular use.
It measures in with a 1 1/2" thick shaft that's 5 1/4" long and a 3/4" wide anal stimulator that's 4 1/4" long that's outfitted with 5 ripples for 5 times the pleasure. Inside is a single speed bullet vibe that gives the whole Flex some sweet vibrations. Best of all, the vibrating action travels along both shafts, so you'll be thoroughly stimulated, from front to back.
Other features include a wide base that can easily be used in a harness and the Tantus Ultra-Premium Silicone blend the brand is famous for. Available in Purple and Midnight Purple color options, this toy is sure to please in a whole lot of ways. So, I guess you're probably asking that one big question now, aren't you?…
What Did I Think of the Tantus Flex?
I liked the simplicity of the Tantus Flex. This silicone vibrator offers a way to ease into double penetration without being too intimidated. Let's face it: some toys out there are just a bit too much for the novice. The single speed bullet leaves no room for confusion. Just switch it on and slip it in. Sometimes, that's all you need in a sex toy, newbie or not.
The following two tabs change content below.
Kim Airs is the founder of the upscale sexuality boutique, Grand Opening! She's since moved the store online and now offers a ton more
sex toys and goodies
for your own personal shopping experience! You can find her on
Google+
and
Twitter
.