If you're making a pit-stop at my blog here, I'm going to assume you have a vague idea of what a rabbit vibrator is. At the end of the millennium, they rose in prominence as "the hot sex toy to have" and they're still wildly popular. Of course, there's a much wider variety of those bunnies available now, but we'll get to that in a moment.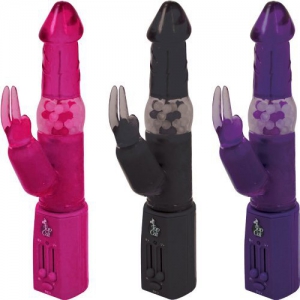 First, let's break down the rabbit into its main components
What Makes a Rabbit Vibrator a Rabbit?
Dual-action is the keyword here. Rabbit vibrators are designed to get at all of your hot spots at once, offering clitoral and G-spot stimulation thanks to its shaft and rabbit-shaped attachment. The shaft is to be inserted into the vagina, which vibrates to stimulate the G-spot. Many of these toys have a rotating shaft to offer even more direct G-spot stimulation. At the base of the shaft are pearls that rotate, spin, and bounce about to stimulate the entrance of the vagina. Finally, attached to the shaft is a smaller vibrator that is shaped like a rabbit (or some other critter) to stimulate the clitoris.
Is It Still a Rabbit If It's a Dolphin?
On the original rabbit vibrator, it was the bunny's ears that offered direct clit stimulation. However, there are tons of different variations available now in the shape of all sorts of creatures from beavers to dolphins. The short answer is, yes. Even if it's not in the shape of a rabbit, it's still a rabbit vibrator if it features dual-action vibes in the traditional shaft with attachment positioning.
Features to Look Out For
When evaluating different rabbit vibrators, use these questions to sort through their features to find the one(s) that will offer you the greatest amount of pleasure:
What material is it made from?
Do the vibrators have variable speeds and pulse settings?
Is it waterproof?
Is the "rabbit" portion of the sex toy aligned with your anatomy to allow for the most pleasure?
Is the toy in a pleasing shape? Do you like how it looks?
Is it easy to clean/maintain?
You're all set! Now go get hopping with your new rabbit vibe!
The following two tabs change content below.
Kim Airs is the founder of the upscale sexuality boutique, Grand Opening! She's since moved the store online and now offers a ton more
sex toys and goodies
for your own personal shopping experience! You can find her on
Google+
and
Twitter
.