Maybe I'm crazy, but I'm giving away another sex toy! This time, it's the Nobu TAKO Vibrator. The new Nobu TAKO vibrator has a unique shape for unique positioning when you use it. With a sturdy handle that holds the rechargeable lithium ion battery, 3 quiet motors, and 10 programs, you'll never want to leave the house!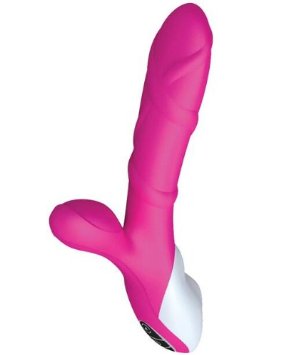 The value of this fab prize is $89 so get on your social media contacts and blast away how much you love reading the www.KimAirs.com blog and shopping on line at your fave sex toy store, www.GrandOpening.com!
HOW TO ENTER
The little widget below should give you all the details about entering. But in case you're confused, here's a quick rundown of how you can get your hands on this tasty selection from GrandOpening.com
You can tweet about the giveaway.
You can follow me, @kimairs on Twitter. (Don't worry, if you already follow me, you get an automatic entry. Pretty cool, huh?)
You can like me on Facebook.
You can promote the giveaway on Facebook in a status update.
You can leave a comment on this blog post here about why you want this sex toy.
Do just one thing on the list or do all five. It's up to you! You get a point for each item on the list you complete and can enter every day with options 1 and 3! The giveaway begins tomorrow, October 10 at 12 a.m. and ends October 18 at 12 a.m.
Don't delay! Go ahead and enter to win this truly unique vibrator!
RULES:
Offer only available to U.S. residents,
Only those who are 18+ may enter.
The following two tabs change content below.
Kim Airs is the founder of the upscale sexuality boutique, Grand Opening! She's since moved the store online and now offers a ton more
sex toys and goodies
for your own personal shopping experience! You can find her on
Google+
and
Twitter
.