If you've recently purchased a rabbit vibrator (or you're thinking about buying one), you might open up the box and get a big question mark on your face. "How the heck am I supposed to use this thing?" you might be thinking. Or, maybe you're new to the wonderful world of sex toys and are a bit nervous about experimenting with your new gizmo.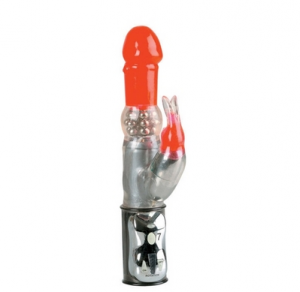 Whatever category you fall into, here are a few quick tips for getting over your inhibitions so you can get to hopping.
Prep and prime. Before you take your bunny for a test run, wash it well with a mild soap and water. Better yet, use a toy cleaner to remove any germs and chemicals left over from manufacturing. Completely dry it off and put in the batteries.
Press some buttons. Seriously, press the buttons on the vibrator to see what they do. If there's an instruction manual that came with it, read the key features to familiarize yourself with how this toy works. The last thing you want to do is be fiddling and fumbling in the dark. Test out each of the vibrating functions including speed and pulse variations to figure out what you think you might like best.
Lie back, close your eyes, and turn it on. Just as you experimented with the functions before, now you can experiment with them on your body. Press the shaft of the rabbit vibrator against your vulva. Try out the different speeds to see what feels best. Give yourself (or your partner) plenty of clitoral stimulation to really get the party started.
Insert the toy. Once you're nice and wet (or you've applied generous amounts of lubricant) you can insert the rabbit vibrator into your vagina. Get comfortable with the feeling of the toy inside you before you start up any additional features like the shaft rotation or flicking bunny ears.
Have fun. After a bit of play, you won't need these tips anymore. Lose yourself in the experience and enjoy all the different sensations this kind of sex toy provides.
The following two tabs change content below.
Kim Airs is the founder of the upscale sexuality boutique, Grand Opening! She's since moved the store online and now offers a ton more
sex toys and goodies
for your own personal shopping experience! You can find her on
Google+
and
Twitter
.