The Nasstoys Femme Fatale Jelly Climaxer Strap On is a nifty little hands-free, strap on gizmo that covers all the bases–if you're a woman, that is! The 2.5-inch insertable portion takes an N battery-powered, variable-speeded bullet vibe and there's a smaller, single-speed, 3 tiny cell battery-powered vibe that fits in the clitoral vibe area pocket. In short: this handy toy makes sure you and your partner are pleased. Over and over again.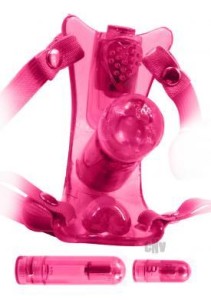 The Nasstoys Femme Fatale Jelly Climaxer Strap On is, as its name would suggest, held on with straps that encircle her waist and thighs. It's phthalate-free and made from TPR (thermoplastic rubber) so it's easy to wash and wear. This is even a nice sex toy to use under panties when going out on a solo evening for extra special self-foreplay. And let's be real: who doesn't like that!
So, What Did I Think of the Nasstoys Femme Fatale Jelly Climaxer Strap On?
As if you couldn't already tell, I really enjoyed it. This simple little sex toy is easy to use, easy to clean, and comfortable to wear. Since it's phthalate-free and uses TPR, it's durable and safe to hold close to your most delicate parts. Plus, it features two nice and powerful vibes that get at your hot spots with ease. It holds up well with other toys that bear the Nasstoys name.
Use it with a partner as it's intended or use it alone. It's up to you. All that matters is that you use it. Then use it again. And again…and…
The following two tabs change content below.
Kim Airs is the founder of the upscale sexuality boutique, Grand Opening! She's since moved the store online and now offers a ton more
sex toys and goodies
for your own personal shopping experience! You can find her on
Google+
and
Twitter
.