In beautiful packaging that doubles as a small evening clutch, Love Candy by Kendra: The Curve is a handy to use sex toy from Evolved Novelties dressed in a slinky black silicone skin.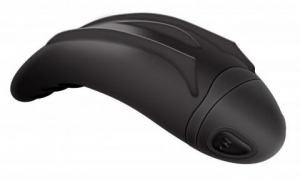 The Love Candy by Kendra: The Curve fits in one's palm with the vibrations happening at the end of its slightly pointy but comfortable tip. The push buttons at the sides of the top are easy to use: one on/off button and one for the 3 speeds and 7 functions so you can create just the right combo for pleasure.
My only issue was the difficulty I experienced putting the 2 AAA batteries into the battery compartment, trying to make the cap position itself just right in order to twist it and close it properly. It was pretty tricky to do but eventually, I succeeded. My advice is to install the batteries when you're not thinking about sex toys… like when you put batteries into your kids' toys… then it's ready to go when you are. Like after the kids are asleep. Mmmmm…
So, What Did I Think of Love Candy by Kendra: The Curve?
This is a really nice sex toy from Evolved Novelties. It has a slim and sleek look to it and is comfortable to hold. It's genuinely designed to use all over your body and is perfect for relaxing tired muscles and for pressing against your vulva and clit.
The buttons are intuitive, the form-fit pleasing. Again, my only complaint is the difficulty I had putting in the batteries but so long as your sex toy is prepped ahead of time, it should be a problem. I'd recommend this handy fits-in-your-palm massager to a friend.
The following two tabs change content below.
Kim Airs is the founder of the upscale sexuality boutique, Grand Opening! She's since moved the store online and now offers a ton more
sex toys and goodies
for your own personal shopping experience! You can find her on
Google+
and
Twitter
.