Kegels, we've got Kegels! LELO Luna Beads, in their signature sexy, sleek box, offer not two but FOUR plastic balls in various sizes for comfort and pleasure, all of which are weighted for added toning of your love muscle. Unlike many other duo tone balls (the commonly used name for these), the Luna Beads are separate and attach to each other with a silicone harness that you slip the balls into.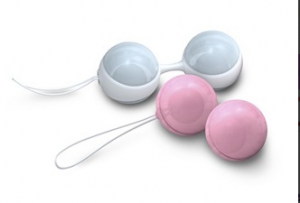 Two of the beads are slightly smaller and are faintly blue and the heavier ones are lighter pink. The goal is to go for the burn (only kidding) by using the balls to strengthen your PC (pubococcygeus muscle) which is the muscle that goes from your pubic bone to your coccyx bone (the last bone of your spine). In other words, it's your sex muscle and using the LELO Luna Beads can only result in better sex and better urinary control and function. For extra fun, see how far you can shoot them across the room.
What Did I Think of LELO Luna Beads?
These little guys really pack a punch. They have just enough weight to give your PC muscle a workout without being uncomfortable. All of us ladies should do Kegels on a regular basis, so why not incorporate them into sexplay with a sex toy like this? I know that's what I'll be doing.
The following two tabs change content below.
Kim Airs is the founder of the upscale sexuality boutique, Grand Opening! She's since moved the store online and now offers a ton more
sex toys and goodies
for your own personal shopping experience! You can find her on
Google+
and
Twitter
.