She's got the perfect curves. She's got a handle on things. She's made of comfortable, smooth glass with a beguiling silicone coated curve to reach deep within me. Glass and silicone: my favorite combination. She's my new perfect girlfriend. Her name is the Comet Wand by Key, presented by Jopen but I'll just call her Lovely. The box for the Jopen Key Comet Wand is unlike any other – a silky "ponytail" loop lets her hang distinctively from a silvery hook in a store, her stylish box opens horizontally, exposing a gently opening window and a foam casing that traces her lines and holds her firmly in place.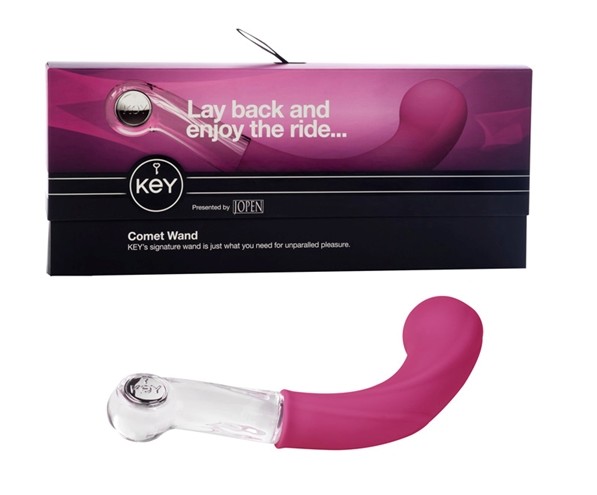 Wait, what's that I see? She even comes dressed with an inky, black drawstring bag so I can take her where I want her to go. She has an instruction card as if I need to be told where to put her to give me pleasure. She comes with a one year warranty in case I wear her out from too much use but she'll last much, much longer than that. She has her own QR code on the back of her case so she can share her many secrets with you, the lucky buyer.
Available in Raspberry Pink, Robin Egg Blue, and Lavender, the Jopen Key Comet Wand features an ergonomic shape that makes it easy and comfortable to access your G Spot. It measures 5-inches long by 1.5-inches wide–just the right size–and features a stainless alloy emblem as a classy finishing touch.
What Did I Think of the Jopen Key Comet Wand?
I'll keep this one brief. I think I love her and will take her home. Ah, the Key by Jopen Comet G Spot Wand: It's fresh, it's new, it's quality. And it's the shape of things to come.
The following two tabs change content below.
Kim Airs is the founder of the upscale sexuality boutique, Grand Opening! She's since moved the store online and now offers a ton more
sex toys and goodies
for your own personal shopping experience! You can find her on
Google+
and
Twitter
.