The Je Joue Fifi is one of the most un-rabbity rabbits out there and that's a good thing. It seems like every vibrator wants to be a rabbit nowadays so when I saw the Fifi, I was intrigued. After all, it bears the rabbit shape but its seamless silicone design gives it an ear up on the competition.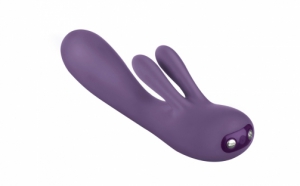 Let's talk about some of its features, first. The Je Joue Fifi is rechargeable and has positive and negative spots on the charging end that are magnetized for added convenience. These also work as the vibration and speed controls and you can press the center spot to send this bunny hopping, er, pulsing.
The silicone is what really sells this one for me. The shaft is firmer than the rabbits made from rubber. It doesn't have those spinning beads, either. The ears don't have a motor but because they're made from silicone, too, they pulse and vibrate right along with the rest of the shaft. And with 5 vibration settings and 6 pulsing rhythms, you can optimize this bunny to hit all your right spots. Oh, and add waterproof to the list of features. Want to use it in the bath or shower? Feel free!
I really liked the packaging, too. The Je Joue Fifi comes in a black box, wrapped in a retail sleeve. I chucked the retail sleeve and keep mine in the black box for clean and simple storage.
What Did I Think of the Je Joue Fifi?
Loved it. The Je Joue Fifi may not look like other rabbits. Hell, it might not even offer all the other features of the traditional rabbit, but I didn't mind one bit. This rabbit picks a few functions and does them well. Brownie points for the hard silicone shaft and ears and easy to use speed and vibration controls.
The following two tabs change content below.
Kim Airs is the founder of the upscale sexuality boutique, Grand Opening! She's since moved the store online and now offers a ton more
sex toys and goodies
for your own personal shopping experience! You can find her on
Google+
and
Twitter
.