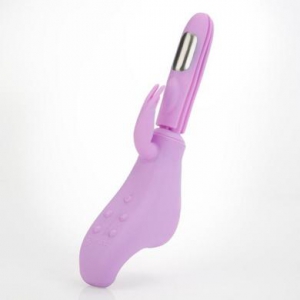 Jopen raises the bar yet again with the Intensity by Jopen. This is not merely a toy for snuggling with… it is more of a sexual health product that may help women with various medical issues. Before I get ahead of myself, let me begin by saying that this 4 AAA battery powered gizmo is hefty in size but not in weight (the insertable shaft is a typical 5" x 1 ½" but the entire contraption is 12" long). It offers the user many different options…
Here goes: the silicone shaft has an accordion type sleeve which gently expands when the bulbous base is squeezed (there is a button on the bottom to release the air which remains self-contained). The button controls in the front are easy to use when the shaft is inserted for use. The main feature of the Intensity by Jopen is, to put it mildly, intense. It has two electro-stimulation pads on the top and the bottom of the shaft that make a connection via your vagina when inserted. The pads are placed to stimulate above the g spot, and, more accurately, the PC muscle (pubo-coccygeal muscle which is the muscle that you exercise when doing Kegels, it's also commonly known as the "pelvic sling").
The variable speed electrostimulation pulses in order to stimulate the muscles which may be contributing to urinary incontinence caused by a number of underlying issues such as childbirth, aging, lack of use, etc. And there's also a variable speed, three eared rabbit type external stimulator in case your clitoris feels lonely and needs attention during your internal romp. The same vibration button also controls a vibrator on the shaft in the g spot area.
What Did I Think of the Intensity by Jopen?
It's intense, to be sure, but the Intensity by Jopen is a high quality product. Hopefully there will be medical professionals aware of the Intensity who can recommend it to their patients that need this product to increase vaginal health and sensitivity.
But then again, there's a big contingent of kinksters out there who would love to get their paws on the Intensity – health issues be damned!  Line me up!
The following two tabs change content below.
Kim Airs is the founder of the upscale sexuality boutique, Grand Opening! She's since moved the store online and now offers a ton more
sex toys and goodies
for your own personal shopping experience! You can find her on
Google+
and
Twitter
.