If you missed out on part one and part two, now's the time to get caught up! Don't worry. I'll wait. Now, the first thing to keep in mind when you're working in a brothel is the motto "Less IS More" – meaning wearing less will get you more clients. Apparently, I learned, less birthdays works that way, too.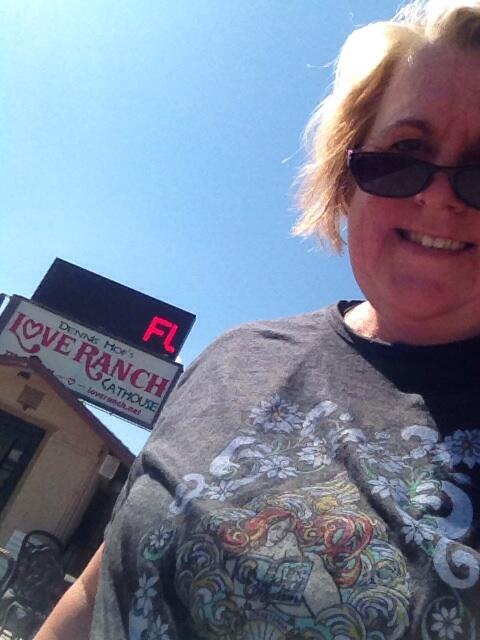 I've always been proud of where I am in my life, without living in regret or moving forward with them. Same with birthdays. I wear them proudly. I, most likely like other women my age (55, if you really want to know), probably fantasize about making passionate love, okay, really, ravishingly FUCKING those young, buff, 20 somethings, giving them an experience they'll never forget. Women, in my book, age like fine wine, and I'd like to think myself included. I actually like having sex with much younger men because, since I don't have any kids (and never will at this time of my life), I have no point of reference thinking that I'm having sex with a kid that could be mine. Besides which, those young guys shoot like GEYSERS. Up to the ceiling! Up to their chins! Up through my pendulous bre… okay… down girl. You have a blog to write!
(Check out the photo gallery from my week long brothel stay!) 
Okay, where was I? Ah yes, less is more. Well, it turns out that the less you wear, the more you offer when you show your bod to the client. And just how do we do that at the Love Ranch?, you ask.
"LINEUP! LINEUP!" the hostess silently barks when we have a hungry customer walking through the door when he wants to feast his eyes on the beauties that are working at the time. What a lineup is is exactly that. We can be hanging out in our room, snacking in the non-stop, open 24 hours, well-stocked kitchen, or reading in the parlor (the main socializing room of the brothel). The lineup is called by the hostess who frantically hits a doorbell by the front door that rings in your room, summoning you to run as fast as you can into the parlor (in your heels or barefoot so you can slip into them at the entrance) and taking your place in line, standing stick straight without moving your hands, arms or anything else that might draw attention to you over any of your lovely competitors for his hard earned cash.
When the hostess figures that all of the girls are ready for the show, she proudly says "Okay ladies, introduce yourself!" and depending on the number of women, we sashay in a circle, making brief eye contact with the client, and cheerfully introduce ourselves, saying our names clearly and happily. "Hi! My name's Kim!" I'd smile as I twirled around the edge of the room with other women in front or behind me. We'd resume our place in line when the lineup was finished and allow Mr. John to choose the woman of his dreams. It's kind of a perverted climax akin to Miss America… "pick me!" "pick me!" you're thinking to yourself, hoping that you'll wind up with some cash instead of going back to your room to play another hand of Solitaire.
Now whom exactly do these guys pick? As you know, I'm completely fascinated by ALL THINGS SEX and seeing this pageant unfold frequently was certainly part of the 450 mile trip up the 395. Ever since my humble beginnings in the wacky sex world, I've learned that one can NEVER generalize who is going to choose whom for the horizontal dance competition but I can say that I got pretty good at guessing. Turns out that usually, the roly-poly old white guys go with… wait for it… the blonde, scantily clad young 'uns or my lovely, dark skinned beauties who totally rocked the place while I was there. I had hoped they'd go for someone like their woman at home but come to think of it, maybe that's why they're at the Ranch. Like Tom Waits growls in "Pasties and a G String" – "getcha little sumthin' that you can't get at home." Welcome to the Ranch.
When you're working at the Ranch, they suggest your twelve hour schedule to see you if it fits your normal sleep/wake schedule so it doesn't throw off your fucking Circadian rhythm. Adrianne, the fabulous House Madam, suggested I work from 10am to 10pm every day, hours that are totally agreeable to my system although I kinda do prefer turning tricks in the moonlight.
Now I know you're wondering, WHAT!?? TWELVE HOURS!?!? Well, yeah. I mean, you're gonna be there anyway so why not be on the market the whole time? And it's not really WORKING the whole twelve hours: you're on the property, keeping busy, shootin' the shit, doing stuff.
We're also allowed to roll up to the Moonlight Bunny Ranch, the larger, more famous brothel also owned by Dennis Hof that's about ½ mile away. Sure, you've seen it on HBO's Cat House program that ran for many years and still does. There's a pool there we can use (I didn't go) and a gym in a converted few car garage (where I did go a couple of times to bang out a sweaty). So you can escape the Love Ranch to go to the Bunny Ranch and you can make arrangements to go do errands in town, if you need to, during your shift, but since I was so well prepared, I never left for any amount of time.
But back to the schedule. Several of the gals worked from noon to midnight, one pm til one am, and one gal actually worked from 8pm til 8 am to capture those guys who wanted pay for a blowie before work. No shit.
One morning, I was awake in my bed at 7am when I heard the doorbell ring (which it does anytime of day or night when Mr. John walks through the door and wants to see the lineup). I had my messed up morning hair, which I think looks kinda sexy, so I threw on a silky Japanese robe, heels, and dashed out as fast as I could. But no client! Turns out Miss 8am got him so the early bird DOES get the trouser worm at The Love Ranch!
But you also only get paid when you "party," the brothel's term for the legal hook up you are about to experience with Mr. John.
Let me go get some lube and tell you more in the next post. Mmmmm….
The following two tabs change content below.
Kim Airs is the founder of the upscale sexuality boutique, Grand Opening! She's since moved the store online and now offers a ton more
sex toys and goodies
for your own personal shopping experience! You can find her on
Google+
and
Twitter
.