The Fashionistas Glass Pig Tail Butt Plug is good fun. Really. Okay, call me kinky but I know a good, fun, playful product when I see one. This stylin' glass pig tail butt plug will delight the perverts (and I use that term affectionately) with its whimsical shape and delicate glass coil for the piglet's tail.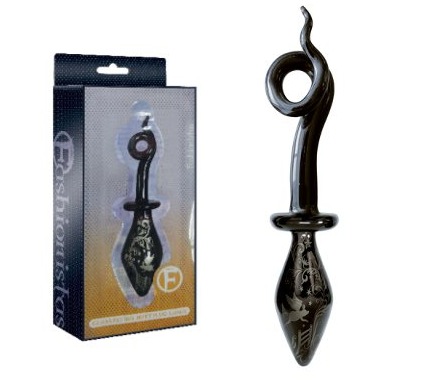 The glass butt plug itself is etched in the Fashionistas' trademark flourishes, making this a beautiful art piece as well. Upon closer inspection, there is a humorous flying pig in the silvery scrollwork on the plug that you can show your partner when they say "Oh yeah, you'll shove something up my ass when pigs fly…" Just present this to them, place a blindfold over their eyes, put a ball gag in their mouth, slip some lube into their butthole, and prove them wrong. Let them squeal like a pig and ENJOY it.
The plastic printed packaging with a clear peek-a-boo window shows off the fine craftsmanship of this unique toy. Stock this if you have a steady flow of kinksters in your store who are always demanding something different and clever. It will appeal to those who enjoy the firmness and quality of a glass toy and can fully appreciate a bovine-themed butt plug, too.
What Did I Think of the Fashionistas Glass Pig Tail Butt Plug?
I think it's fun. And funny. And will probably appeal to kinky folks and those looking for some levity in their sex lives, too. Made from borosilicate glass, this toy is shatter resistant and you can easily heat it up or cool it down with warm or cold water. It's also phthalate free. Available in small and large, all tastes are satisfied with the Fashionistas Glass Pig Tail Butt Plug.
The following two tabs change content below.
Kim Airs is the founder of the upscale sexuality boutique, Grand Opening! She's since moved the store online and now offers a ton more
sex toys and goodies
for your own personal shopping experience! You can find her on
Google+
and
Twitter
.