Silicone is the perfect material for sex toys. It retains body heat, is non-porous and is resilient, yet firm. They are more expensive than mass produced rubber or latex toys as each dildo is individually hand-crafted of medical grade silicone. A lot of care is put into the manufacturing of these silicone sex toys.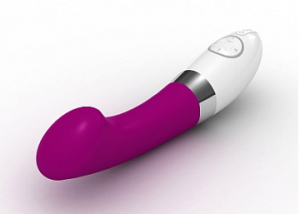 Your new silicone sex toys will provide you with many pleasant times provided you take good care of it. Clean it with any kind of soap and water (even the waterless, alcohol-based handcleaners work well) and make sure it is thoroughly rinsed and dry before putting it away. Viruses and bacteria cannot live on a dry surface. You can also add a couple of drops of bleach with the soap to disinfect. These gizmos can also be boiled for up to five minutes for that extra strength cleaning you may desire. Try using it right after boiling for a pleasantly heated experience! They are also top rack dishwasher safe (but where do you put them away afterwards? Try the spice rack!)
Now the tricky parts: please try to avoid breaking the surface of the silicone. Once even a small crack has formed, the toy can tear quite easily. Avoid gnawing teeth, fingernail gouges, zippers, cats, dogs, and yes, ferrets. They love 'em as much as you do, so safely tuck away your silicone sex toys after you're done washing it. Storing them in an old nylon or non-cotton sock works really well. The Vixen Creations line of silicone dildos have a lifetime guarantee against defects under normal use. If they are defective, simply return your dildo and have it replaces with a new one of the same size and color. Vixen dildos come packaged in a bag that has further information about their guarantee. Please keep it as a reference.
If you are using your dildo in a harness, make sure the dildo fits easily through the hole and does not have to be forced. Always insert the dildo into the harness carefully and remove it the same way.
The following two tabs change content below.
Kim Airs is the founder of the upscale sexuality boutique, Grand Opening! She's since moved the store online and now offers a ton more
sex toys and goodies
for your own personal shopping experience! You can find her on
Google+
and
Twitter
.