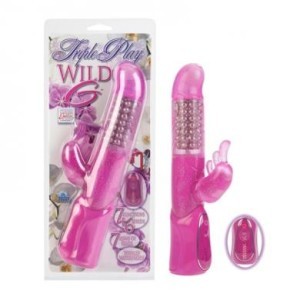 The Cal Ex Triple Play Wild G is a hefty triple action vibe that will swirl and stimulate the most demanding sex toy connoisseur by providing seven rows of fixed, swirling metal beads and a multi-function, three tongued clit stimulator.
The 1 ½" wide shaft with the gently rounded head will slip in a deep 5 ¼" while the seven speed pulsation and escalation of the chunky and cleverly designed clit stimulator will works its way around more than just her clit. With extra added lube, the three tongue-like protrusions will feel like a nice round of oral sex thrown in for good, orgasmic pleasure. The "EZ-load battery pack" is exactly that, needing just a twist of the waterproof sealed base to unlock the 4 AA battery pack that slides right out. This is a welcomed hefty vibe for those multi-pleasure gals out there. Available in pink and purple.
What Did I Think of the Cal Ex Triple Play Wild G?
Lovely little toy, that's not so little, the Triple Play Wild G from California Exotic Novelties proves that not every rabbit-style vibe needs to have the same features. The clit stimulator on this vibrator is out of this world, offering up triple the sensation. It really stands out when compared to other products of this style. Plus, the beads are located at the right spot to provide external and internal vaginal stimulation for added oomph.
All in all, this sex toy is one to remember.
And Remember, if You Liked This Review…
Be sure to let me know. I love feedback and want to hear from you, my readers! Plus, I'm always interested in hearing about other's experiences with the sex toys I review. Feel free to share in the comments or on Twitter!
The following two tabs change content below.
Kim Airs is the founder of the upscale sexuality boutique, Grand Opening! She's since moved the store online and now offers a ton more
sex toys and goodies
for your own personal shopping experience! You can find her on
Google+
and
Twitter
.