If you're looking for a personalized touch in your next harness, the 10 Function Silicone Love Rider from CalExotics is an excellent choice. Not only does it provide a wide range of settings, it's also a great starter harness. But more on that later.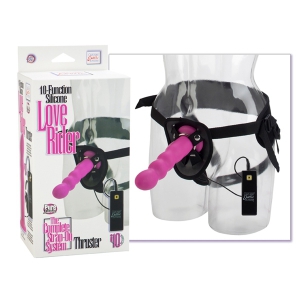 First, let's get some of the nitty gritty details out of the way. The dildo is made from silicone, so you know it's going to feel ultra realistic. It measures in at 6 1/2" long by 1 1/2" wide and it nestles in snug into the black vinyl harness.
The great thing about this harness is that it's quite large and can stand up to real vigorous use. It'll fit women, petite and plus-sized, and the 1" wide straps sit nicely between your legs. This means the straps won't get in the way if you want to slip your hand down to provide a little clitoral stimulation.
Another thing I liked is how the harness doesn't ride up. The back panel is wide and stays in place nicely. Feel free to go buck wild. This thing isn't moving.
The dildo features a 10 function vibrator at the end of the shaft and you can even slip the remote controller into the harness straps so it's out of the way (but close at hand) when it's time to get down to business. The vibe's power is pretty strong. And a really cool feature? It remembers your last settings the next time you use it.
What Did I Think of the CalExotics 10 Function Silicone Love Rider?
Great product. This vibrating dildo and harness set is sturdy and performs well. Standout features include the settings memory for the vibe, strong and no-ride-up straps, and a nifty instruction booklet that tells you how to wear a harness.
The following two tabs change content below.
Kim Airs is the founder of the upscale sexuality boutique, Grand Opening! She's since moved the store online and now offers a ton more
sex toys and goodies
for your own personal shopping experience! You can find her on
Google+
and
Twitter
.