Last time, we got started by discussing some of the best tips for taking care of your vibrator. I hope you're ready for some more useful tips though, because boy, do I have them! Let's not waste anymore time, shall we?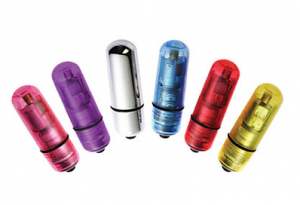 Top Vibrator Care tips Continued
CAUTION!  DO NOT USE VIBRATORS UNDER THE INFLUENCE OF DRUGS OR ALCOHOL AS THE POSSIBILITY OF MISUSE MAY INCREASE!  We are concerned about your safety!
Cords: If there is a cord between your vibrator and battery pack, donot tug the cord to remove the vibrator.  Since the cord can detach, it is better that you pull the vibrator out with your fingers.  Also, these vibrators should NOT be used anally since there is always the possibility of the cord detaching.  The vibrator would then possibly be irretrievable without medical intervention.  Now, do you REALLY want that to happen?  Use only toys with a flared base for anal insertion; these will never slip out of reach.
Safe vibrator use:  It is advised that you use a condom on toys that are used by more than one person, and use a new condom for each person.  If the vibrator will be used for both anal and vaginal penetration, it is suggested that you use a new condom for each separate insertion.
Battery placement:  If the batteries required are side by side, they should be placed with one positive and one negative end of the batteries facing up (A). If they are required stacked, they should point in the same direction (B). If you have purchased a Japanese vibrator with a clitoral attachment, we strongly suggest you use  carbon batteries instead of alkaline batteries. This will prevent the delicate, smaller vibrator motor from burning out.
Tricks to get 'em going again: If your battery vibrator conks out, try GENTLY tugging up on the battery contact spring or metal tabs. This may help with the battery contact points.  Try changing the batteries either by replacing them or changing their position in the vibrator.  If all else fails, try GENTLY shaking the vibrator.  Although we don't normally recommend doing this, sometimes it's all it takes to get 'em buzzing again.
Most of all, enjoy and have a good time!
And there you have it! Follow these tips and you'll get more life out of your vibrator.
The following two tabs change content below.
Kim Airs is the founder of the upscale sexuality boutique, Grand Opening! She's since moved the store online and now offers a ton more
sex toys and goodies
for your own personal shopping experience! You can find her on
Google+
and
Twitter
.