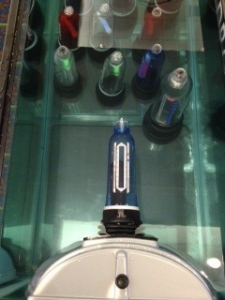 I already posted my general ANME wrap up last week and recapped the expo day by day over at XBIZ. However, I wanted to include some details here about the show itself. People not familiar with the industry might not know who the "Founders" of the ANME Founders Show are. I'm going to take some time today to introduce you to them and talk about what unique products they offered up at ANME this year.
Who Are the ANME Founders?
Nasstoys continues its accession in the industry by producing high quality products made from only the best materials. The motors are quiet and they've expanded their inflatable line, too. As I mentioned on my other blog, the standout for me this year was an inflatable double dildo. It's silicone, vibrates, and comes in a shape that's sure to please.
Next up on the Founders list is California Exotics Novelties, or CalExotics, or CalEx. Whatever you want to call them, their booth was fantastic and divided up between their three main brands: Cal, Jopen, and Key. But my favorite this year is the vibrating Comet Wand from Key. Yum!
Pipedream Products was right next door, which featured several rebranded products under the Anal Fantasy Collection. A brand new collection made its debut as well: Pleasure Pottery. This line features ceramic vibes, dildos, and butt plugs. Clever!
Doc Johnson was next. They expanded their Made in America branding this year with brand new shapes sure to please the tried and true sex toy lover. The real standout from them was the "Black and Blue" fetish line with James Deen on the packaging. I really appreciated this. Vibrators don't always come in packages with busty ladies on them anymore!
Last, but not least, was Topco. Their emphasis this year was on sex dolls as big as you and me and body part toys.
There you have it! I just wanted to take a moment give you a taste of what the Founders had to offer this year. I really enjoyed myself last week. Now to get back to playing with all the sexy goodies I picked up at the show…
The following two tabs change content below.
Kim Airs is the founder of the upscale sexuality boutique, Grand Opening! She's since moved the store online and now offers a ton more
sex toys and goodies
for your own personal shopping experience! You can find her on
Google+
and
Twitter
.