Whether you enjoy anal sex all the time or are afraid of anything getting near your backside, there's a few things you need to know: you can be enjoying anal sex even more (if you're an old pro) or for the first time (if you've only ever experienced pain) just by following these three simple anal sex tips.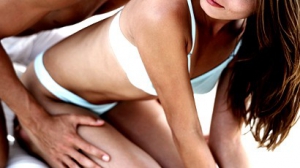 Anal Sex Tips to Live By:
1. Lube. Lots of it. Seriously, you need a lot of lube to enjoy anal sex. If you stop reading after #1 on this list of anal sex tips, just know that making sure your back entrance is slipperier than the 405 freeway after the first spring rain will make the experience more comfortable and a whole lot more fun. The anus and rectum don't produce their own lubricant, so if you try to insert something in there–penis, butt plug, or what have you–it's going to hurt. Plus, the excess friction could actually cause tears in the anal tissue. Ouch! Apply lube to the outside of the anus and slowly work it inside. Reapply lube (lots of it!) during penetration as well to keep things slipping and sliding right along.
2. Relax. You know when you tense up how you tighten all your muscles? Well, the sphincter is one of those muscles, and if you're tense while attempting anal sex, it's just not going to happen. Or, it's not going to feel very good. The sphincter is made up of several rings of muscles. You can actually see some of them. The outer ring is what you see when you look at an anus, which you're bound to do if you're going to have anal sex. The inner ring can be seen if you push down (like you're about to have a bowel movement) and it's pink in color. Once you've identified these muscles, you can get down to relaxing them for penetration with fingers, toys, or a penis.
3. Communicate. As with all good sex, you need to communicate if you expect to have a good anal sex experience. So, if it hurts, let your partner know. Tell them to slow down, ease up, or stop if need be. For best results, the receiver should be in charge of communication, letting their partner know precisely what to do and when to do it. Being open about what you're feeling (and taking things slowly) can help you and your partner skip the pain and get right to the pleasure.
Remember these anal sex tips the next time you're about to slip in somewhere new.
The following two tabs change content below.
Kim Airs is the founder of the upscale sexuality boutique, Grand Opening! She's since moved the store online and now offers a ton more
sex toys and goodies
for your own personal shopping experience! You can find her on
Google+
and
Twitter
.